Sensor and cluster nodes are designed to withstand the harsh environments with temperature cycles of extreme heat and cold, rain, sleet, snow, etc. The sensor node can have an antenna mounted directly on its enclosure or a standard PVC Pipe can be used to elevate the antenna above grass and vegetation. The coupler on the bottom can be attached to a threaded spike driven into the ground prior to the sensor node being connected.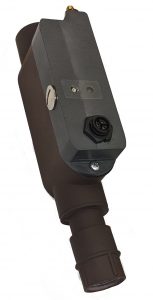 All electronics are completely enclosed to withstand moisture and temperature swings. It measures 1.5 in. wide by 8 in. tall and 2 in. depth. The following shows the Sensor node deployed with the extension pole for the radio. Notice how it blends in with the greenery around it.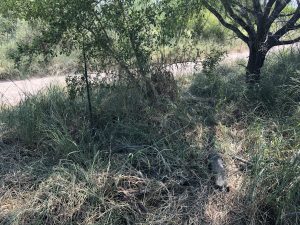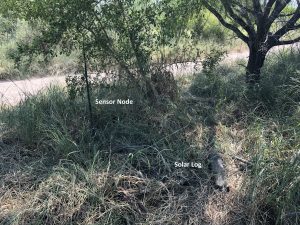 Key Features
Approximately 1.5" x 2.5" x 8″
Environmentally hardened
Solar & Battery powered
Multi-year service life
GPS equipped for precise location
False alarm reduction through advanced signal processing algorithms to provide first tier of false detection filtering.